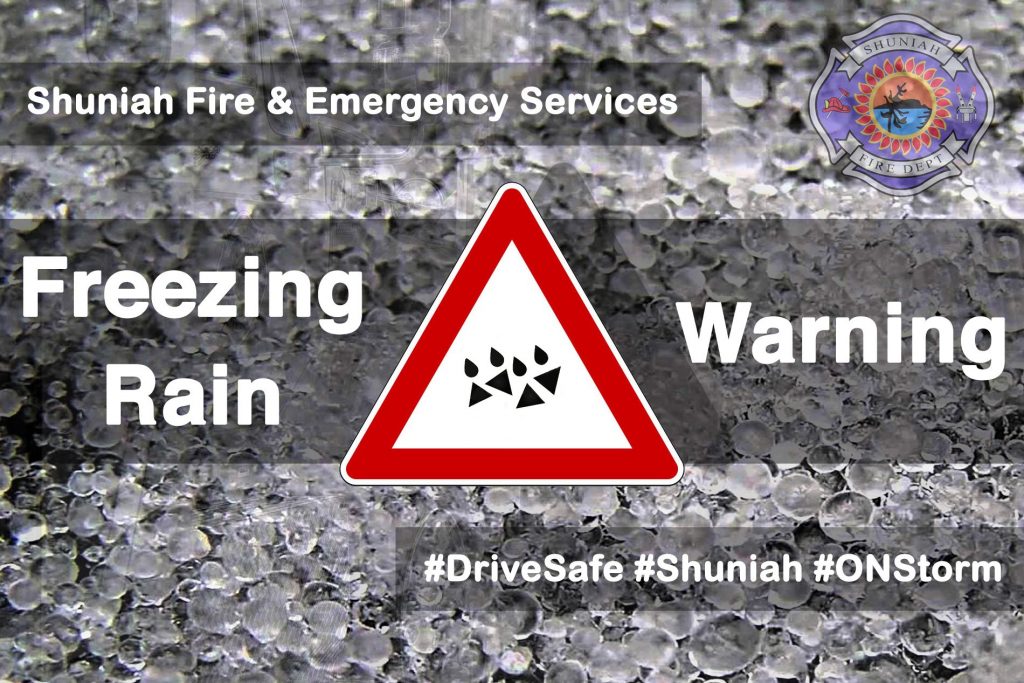 SHUNIAH, ON – April 25, 2017: Shuniah Fire & Emergency Services is advising residents to be prepared for a long period of freezing rain tonight and tomorrow.
Environment Canada is expecting ice accumulations due to a long period of freezing rain starting near midnight tonight and continuing into tomorrow.
Surfaces such as highways, roads, walkways and parking lots will become icy, slippery and hazardous. Ice build-up may cause tree branches to break and power outages may occur.
Motorists should adjust to driving conditions with the following advice:
Reduce your speed in slippery conditions.
Watch for taillights ahead and maintain a safe following distance.
Consider postponing non-essential travel until conditions improve.
Debris on the roadway should be reported to the OPP at 1-888-310-1122.
If you see downed wires with no immediate risk, call Hydro One at 1-800-434-1235.  If wires are over a roadway or on fire, call 9-1-1.
Shuniah Fire & Emergency Services advises people to have everything they need for up to 72 hours, including food, water, medication, batteries and other necessities.
Shuniah residents should continue to monitor road conditions and local forecasts.  Hydro One outages can be tracked on their Storm Centre page.  Further updates will be made available on our social media pages and our Emergency Information Page as available.